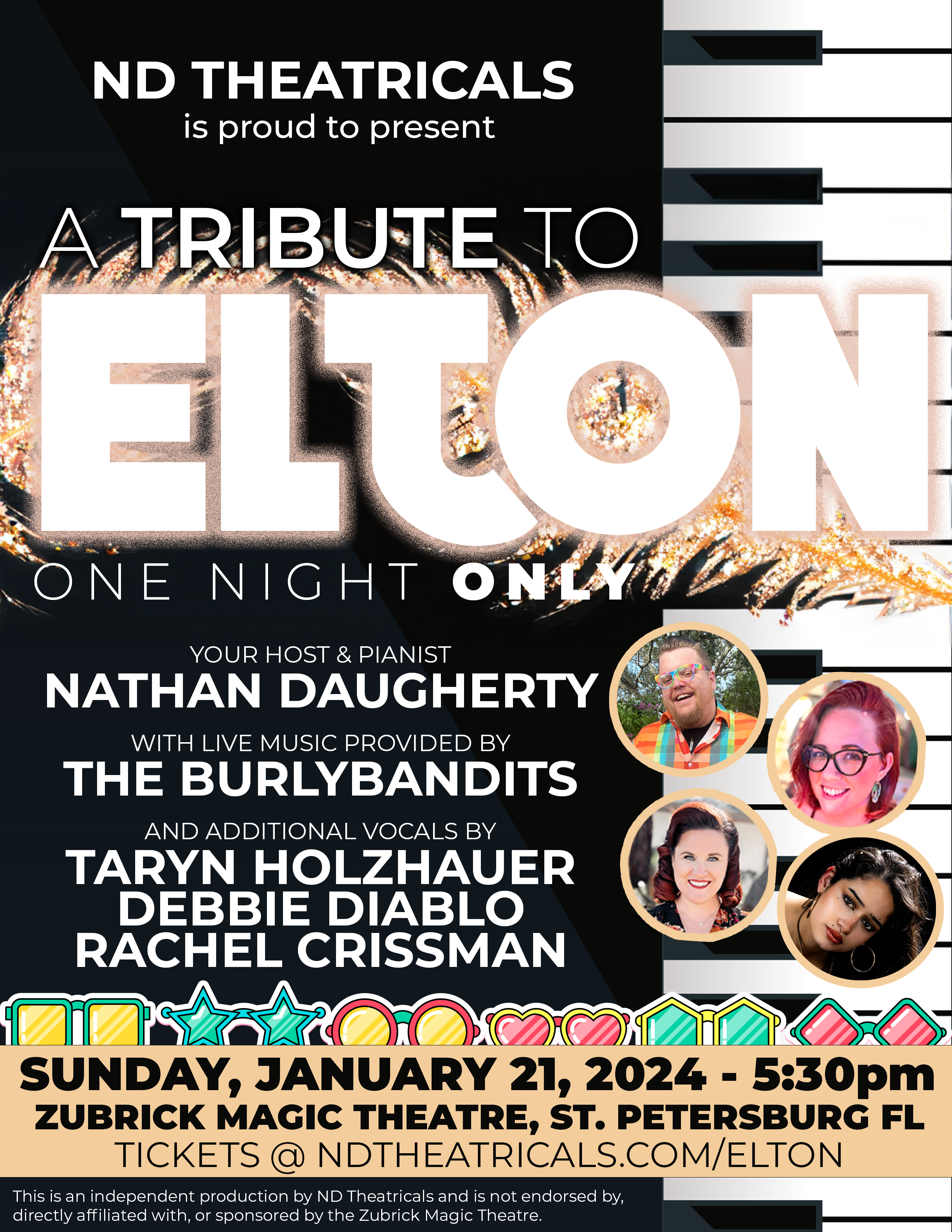 A Tribute to Elton: One Night Only
Get ready to embark on a musical journey through the timeless hits of the legendary Elton John! ND Theatricals proudly presents "A Tribute to Elton," a spectacular showcase of the iconic artist's greatest hits, performed live on stage. Join us on January 21st at the enchanting Zubrick Magic Theatre in St. Petersburg, Florida, for an unforgettable evening filled with the greatest songs ever written.
📅 Date: Sunday, January 21st
🕠 Time: 5:30 pm ET
📍 Venue: Zubrick Magic Theatre, 1211 1st Ave N Suite 101, St. Petersburg, FL 33705
🎤 Experience the Legend: Step into the world of Elton John as our talented performers and live band bring his chart-topping hits to life. From the soulful "Your Song" to the electrifying "Rocket Man," witness the energy and charisma that defined Elton's illustrious career.
🎹 Unforgettable Performances: Our tribute show is more than just a concert – it's an immersive experience that captures the spirit of Elton John's extraordinary performances. From the dazzling costumes to the spot-on piano renditions, every detail is crafted to transport you back to the golden era of rock and roll.
🎟️ Secure Your Seats: Don't miss out on this one-of-a-kind tribute experience! Reserve your tickets now for "A Tribute to Elton" at the Zubrick Magic Theatre. Share the music with friends and family for an evening that transcends time and brings the spirit of Elton John to the heart of St. Petersburg.
ND Theatricals specializes in live event entertainment, atmosphere actors, burlesque shows, musical theater events, expos, and so much more. We can staff your event with the best entertainers in Florida (and beyond!).