THANK YOU FOR BUYING A TICKET!
We are excited to see you at one of our future productions! 
ND Theatricals is quickly becoming the most sought after production company in the Tampa Bay Area. As Artistic Director, Nathan Daugherty uses his unique gifts as a director, performer, musician, actor and marketing professional to create some of the most exciting and original theatrical experiences in Tampa Bay. He also has a unique eye for talent and provides his clients with the finest performers from our local stages and throughout the nation. No dream or idea is too big for this incredible group of artists that bring such skill to their live events exquisitely crafted for performance venues, private parties, corporate events and much more.
ND Theatricals was truly a pleasure to work with for their world premiere of Murder at the Jazz Club. Taryn and Nathan were very professional, organized, easy to work with, detail oriented and their cast and band were no different, from beginning to end. 2 sold-out shows, 2 standings ovations and everyone that attended truly enjoyed themselves. We were very impressed by the level of talent and quality of the show, and we look forward to doing many more shows with them. Thank you for bringing your talents to our venue, you guys' KILLED IT!
Nathan and his team were amazing at our Sueńos de Dalí event! The performers were top notch with themed attire and special performances. It was an absolute pleasure working with Nathan and we look forward to many more amazing events. I would highly recommend his service.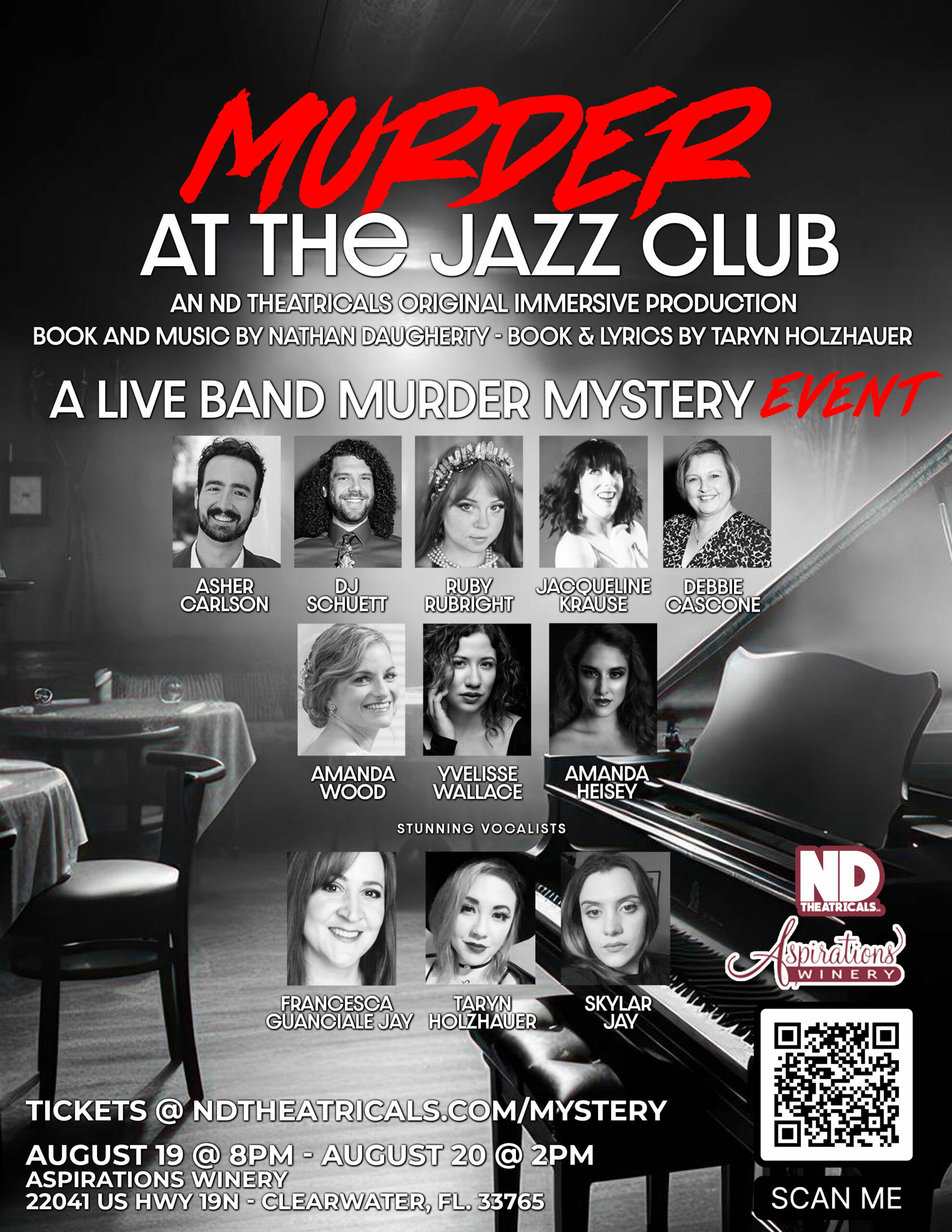 MURDER AT THE JAZZ CLUB
An ND Theatricals Original Musical Production
Saturday, August 19, 2023 - 8pm Showtime
Sunday, August 20, 2023 - 2pm Showtime
Aspirations Winery, 22041 US HWY 19 N, Clearwater FL
Book & Music by Nathan Daugherty
Book & Lyrics by Taryn Holzhauer
There has been....a murder! Join ND Theatricals, in association with Aspirations Winery, as we bring you the Tampa Bay Premiere of "Murder at the Jazz Club", an original musical interactive murder mystery. Once you step foot into the theatre, you'll be a part of the story!  You must be 18+ to attend the show and 21+ to drink. ID's will be checked at the door. No minors will be admitted. No photo or video allowed during the production.
This show will be presented in two acts, with one intermission. Live music provided by The BurlyBandits.
TICKETING OPTIONS - PER PERSON
ULTRA VIP - $60  - (1) Premier Front Row Seat - you will be at a table with up to 4 people. (1) Drink Ticket. VIP Post-Show Experience with the actors. Priority seating 45 minutes prior. (1) Free Clue! Ticket delivered via email.
STANDARD VIP - $45 - (1) Reserved Seat near the front of the stage - you will be at a table with up to 4 people. (1) Drink ticket. Priority seating 30 minutes prior. Ticket delivered via email.
GENERAL ADMISSION - $30 - (1) General Admission ticket to the show. Seating begins 15 minutes prior. Ticket delivered via email.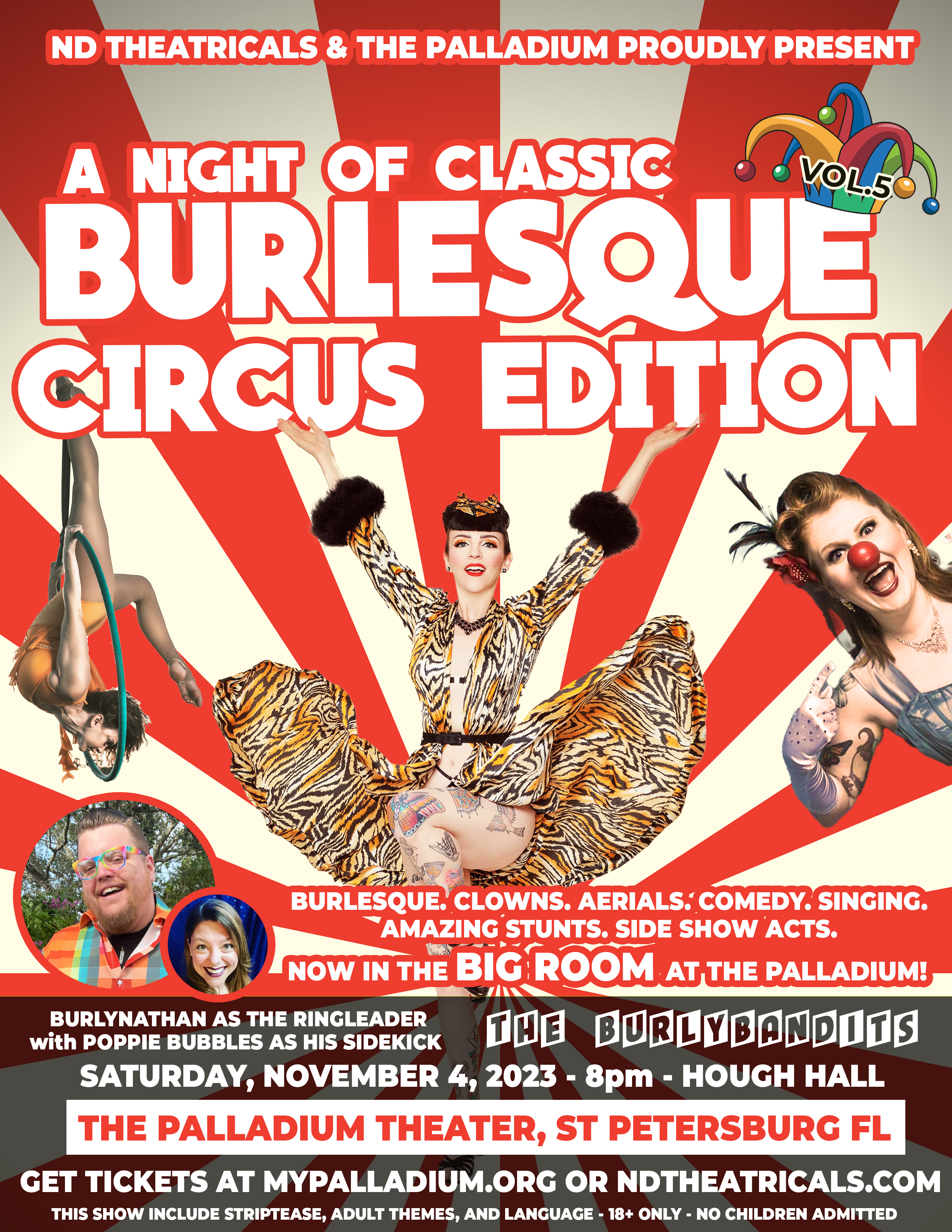 A Night of Classic Burlesque, Vol. 5 - Circus Edition
Saturday, November 4th, 2023 - 8pm
Hough Hall - The Palladium Theater
ND Theatricals, in association with the Palladium Theatre, is proud to present A Night of Classic Burlesque, Vol. 5 - Circus Edition in Hough Hall! Back again by popular demand for our fifth consecutive production at the Palladium, we are excited to bring a spin on our Classic Burlesque series by featuring a cast of exquisite award winning circus performers, burlesque acts, clowns, aerial artists, stunning vocalists, and a special guest ringleader! This show is intended for 18+, as it will include risque comedy, burlesque, and adult themes. Our Classic Burlesque productions are known to sell out quickly, so get your tickets today!
A Few Notes From The Performers

This is a full-scale burlesque and comedy show! Just like they did back during the turn of the century when Burlesque was in its heyday, the performance will include striptease, goofy old-timey jokes, and semi-vulgar banter! Our show is not suggested for patrons under the age of 18, and parental supervision is advised.
This show has an immersive element to it, so the performers will be strutting their stuff throughout the audience. Don't worry – there's no touching allowed from either side!
During this performance, performers will be accepting tips via cash and digital mediums. As is customary with modern burlesque shows, there will be a tip bucket used throughout, so be sure to bring dollar bills to show your appreciation to these lovely performers!